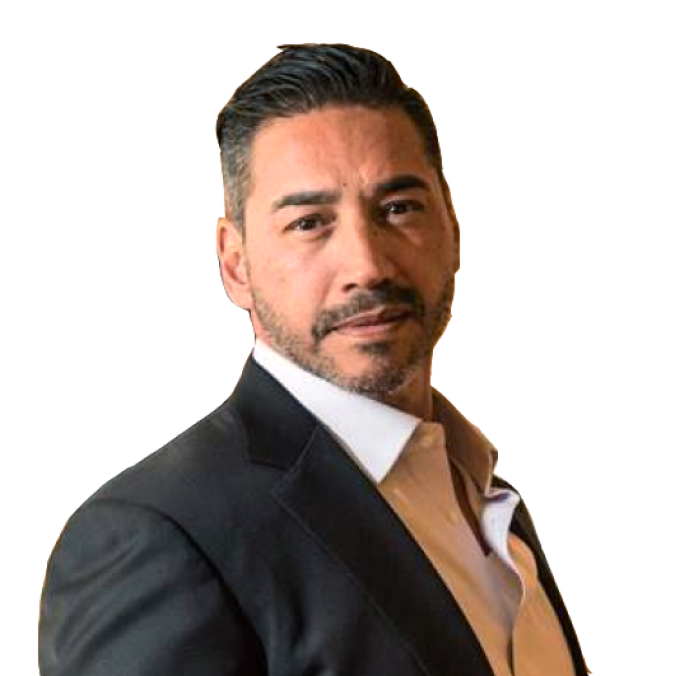 Our Doctor
Mark J. Escoto, DDS
Founder and Clinical Director
Our practice was founded in 1991 by Dr. Mark J. Escoto, who built the company into one of the most successful dental practices in the state of Nevada. The practice offers some of the most technologically advanced equipment and treatments in cosmetic and general dentistry. All treatments are performed in a relaxing and therapeutic environment, and our team members have received extensive training in the dental field. Dr. Escoto provides support, feedback, and leadership to promote growth and long-term commitment from each employee. Our standards are set high so that our doctor and employees alike will strive for new levels of expertise. Each of us strives to foster an environment where our team enjoys coming to work and patients enjoy their dental appointments.
A graduate of University of Nevada, Reno, Dr. Escoto received his DDS degree from the University of the Pacific in California in 1989 and later graduated with his MBA in December of 2019 from University of Nevada, Las Vegas.
He is a founder with diplomat status in the College of Forensic Orthopedics and attained the distinguished credential of mastership at the International College of Cranio-Mandibular Orthopedics (ICCMO) in Vicenza, Italy. Dr. Escoto is a member in good standing of several dental associations, including the Academy of General Dentistry (AGD), the American Academy of Pain Management (AAPM), the American Academy of Craniofacial Pain (AACFP), the International Association of Orthodontics (IAO) and the American Academy of Facial Esthetics (AAFE).
Dr. Escoto has been involved in a number of local charities and has provided and donated to the local boys town.
Statement of Philosophy:
Our mission is to serve patients the highest quality dentistry in the most comfortable manner possible. We will strive to educate, guide, and assist our patients so they may achieve optimum oral health that will directly enhance their quality of life.
Continuing Education:
Neuromuscular Orthopedic and Orthodontics
Midwest Implant Institute: Sinus Elevation
Dr. Escoto has concentrated his continuing education studies in clinical orthodontics and TMD with a focus on:
Forensic Radiology (Analysis & Interpretation)
Tomographic Radiology
Temporomandibular Dysfunction (TMD)
Bio-instrumentation in TMD Diagnosis
Clinical Orthodontics: Diagnosis & Treatment
Orthodontic/ TMD: Diagnosis & Treatment
Clinical Examination of Trauma Victims
TMD & Physical Therapy Treatment Specifically for Whiplash Victims
Neuromuscular Orthotic treatment for Trauma Victims
Neuromuscular Functional Orthodontics
Publications:
Las Vegas Review Journal- May 14, 1999
Article: "Are you suffering from pain?"
Las Vegas Review Journal- June 2, 1999
Article: "Why More Women Are Chronic Pain Victims"
Las Vegas Review Journal- August 4, 1999
Article: "Splint/ Orthotic Therapy for TMJ/TMD patients"
Picture This Journal- Winter/Spring 2000-1
Article: "Making the Best Smiles for Over a Decade"
The Functional Orthodontist Winter 2000
Volume 17 No. 1 (Pages 32 to 34)
Article: "Removal of second molars to alleviate crowding and to
facilitate orthodontic treatment"
Summerlin View- December 2005
Volume 12 Number 100
Article: "Dental Office designed to be kid friendly"
Las Vegas Business Press- March 2006
Volume 23 Issue 10 (Page 17)
Article: "Las Vegas Dentist does Pioneer Work on P· inful TMJ"
Las Vegas Life- September 2006
Article: "Nevada TMJ Institute"
Las Vegas Review Journal- May 2006
Image
Article: "New Technologies in cosmetic dentistry can give anyone something to smile about"
The Magazine of Summerlin & Beyond- September 2006
Page 23
Article: "The Latest in Dentistry: Several Reasons to Smile"
In Business Las Vegas Health Care Headliners June 2007
Article: "Leading Valley Dentist Donates top-notch caret, teens"
Las Vegas Review Journal- June 2007
Living
Article: Dentist donates service to keep children smiling
Summerlin News February 2007
Community
Article: "Local Dentist Donates work to Underprivileged"
Las Vegas Review Journal- January 2008
Article: "Free dental care brightens kids' smiles"
Anthology of Cranio-Mandibular Orthopedic- 2009
Contributing Author, Volume 9
"Implementation of Botulinum Toxin A in Conjunction with a neuromuscular splint therapy to reduce clenching cycles and muscle spasticity"
Outsmart Diabetes1, 2, 3- July 2009
Contributing Author
By the Editors of Prevention.
Professional Lectures:
14\Annual Bio-Research Workshop Conference
Presentation: "Waterlase use in Dentistry"
Las Vegas, Nevada Women's Fair, February 2003
Presentation: : "Why More Women Are Chronic pain Victims"
Nevada Hygiene Association, October 2009
Presentation: "How the Hygienist can play a critical role in the early diagnosis of TMJ Dysfunction"
Honors & Awards:
Featured in Business Las Vegas and Recognized as Heroes in Health Care for Health Care Headliners.